"Considering diversifying investment in front-end process equipment" DS Kwak, vice president of HANMI Semiconductor

2022-04-13
1277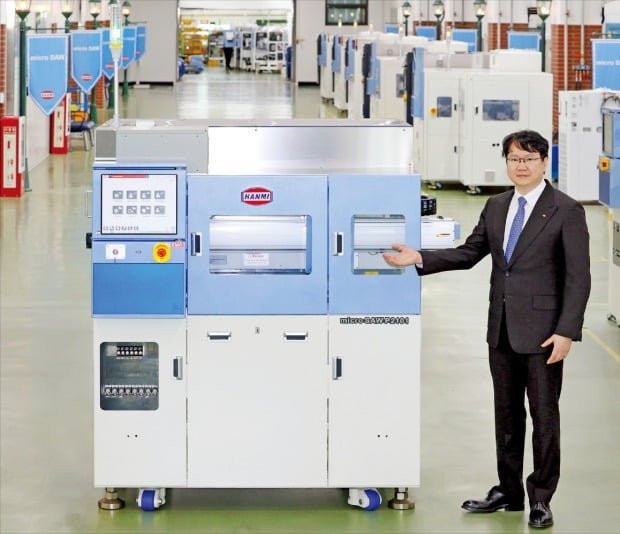 original article
"Considering diversifying investment in front-end process equipment" DS Kwak, vice president of HANMI Semiconductor
Interview with DS Kwak, vice president of HANMI Semiconductor
"We are considering diversifying our investment into the semiconductor front-end process equipment business strategically. We will also draw up a roadmap for developing new equipment to compete with the world's top tier semiconductor equipment companies."
DS Kwak, vice president of HANMI Semiconductor, said in an interview with the Korea Economic Daily on the 13th, "We are planning a new business after became the second-largest shareholder by acquiring a 25% share (including friendly shares) in HPSP last year, a manufacturer specializing in semiconductor heat treatment equipment". HANMI Semiconductor, which has been considered one of the companies specializing in post-end process equipment for semiconductors, has declared expansion of its business area.
HPSP is a company that has major global semiconductor companies as its customers. It is a 'hidden champion' with an operating profit ratio of 49% last year. Vice President Kwak said, "HPSP will be listed on the KOSDAQ market in June," adding, "We expect the presence of HANMI semiconductors will become more solid."
▷What's your biggest business this year
micro SAW, a device that saws semiconductor package. In June of last year, we succeeded in localizing it for the first time in South Korea semiconductor equipment industry. Last march, we launched the fourth micro SAW equipment, Tape micro SAW. It can be applied to specialized power package like automotive semiconductors in addition to general semiconductor package. Also, it can be used for IT (Information Technology) devices like sensors. Most feature of it is that it can perform precise manufacturing. In the second half of this year, 'Wafer micro SAW' will be launched. Our goal is to make Tape micro SAW and Wafer micro SAW into 'cash cow' by focusing on selling them as exclusive.
▷What's the background of developing the micro SAW equipment
In recent years, suppliers of saw equipment, which relied on overseas imports, often failed to meet the delivery date on time as global demand for semiconductors has increased. As we judged that the delivery delay causes sales risks and poses a threat to sustainable growth, decided to internalize it.
▷What's your goal for micro SAW sales
Our plan is to generate more than 200 billion won ($100.5 million) with micro SAW's sole equipment sales by 2024. The micro SAW market is more than 10 times larger than existing package saw market. We want to open an era of annual sales 600 billion won ($470.5 million) by using micro SAW as our main weapon. Ultimately, our goal is to grow into a global premium micro SAW equipment company.
▷Analysts say that your position as a company specializing in semiconductor post-process equipment became more solid last year.
Last year, HANMI become as 'No.1 global brand' in post-processing equipment. We do business with over 320 global companies around the world. In particular, we secured a lot of sales by trading with ASE, Amkor Technology and JCET, the world's top 3 OSAT (Outsourced semiconductor assembly and test). These companies have high brand reliability in China, Taiwan and South Korea, which are leading the global semiconductor packaging industry. In the future, the importance of post-process in the process of manufacturing semiconductor chips will continue to grow. Big opportunities are coming to semiconductor package equipment companies.
▷What equipment do you consider as the 'Best seller'
I'll choose micro SAW as the main equipment in the future, and VISION PLACEMENT as the steady seller. VISION PLACEMENT is equipment that performs washing, drying, inspection, screening, and loading in the semiconductor packaging process in combination with Saw equipment in charge of sawing. After launching the first-generation model in 1998, it has sold more than 3,000 units so far. It is a key equipment that accounts for more than 60% of total sales and ranked first in the global market share for 17 consecutive years from 2004 to last year. I'll say its production volume, precision, reliability, and functionality are all excellent.
▷How is your equipment productivity
We have five factories with a total area of 66,250㎡. We've established a production system that allows fast delivery from design to parts processing, software, assembly, and inspection. Equipment has also been standardized so that 70% of parts can be shared on a single platform. And by simplifying the manufacturing process, has increased annual production capacity to 2,400 units.
▷What is your philosophy of R&D investment
I think R&D investment is very important to create equipment that you can trust and find again. HANMI is closely communicating with over 320 global companies that are in business with around the world and looking at changes in semiconductor equipment propensity and flow. We're plan to make continuous investments while observing the market atmosphere.
▷What is your strategy for attracting talents
'Share company's performance with employees' is HANMI Semiconductor's principle. In commemoration of our record-high performance last year, all employees were given 10 billion won ($7.8 million) worth of treasury stocks for free of charge. And various welfare benefits are also prepared such as providing the new studio dormitory free of charge as one room per person so that outstanding talent can work freely. Also, we offer a week's special vacation in addition to annual leave every year, with personal travel expenses once a year.
▷How much sales do you expect this year
Expect it'll be slightly higher than the growth level of the global semiconductor market. Sales will also be higher than last year. Because this year, micro SAW series and VISION PLACEMENTs are expected to contribute to sales in earnest. Also, sales of new equipment that is applied to 3D package like HBM (High Bandwidth Memory) semiconductors are not bad.