HANMI Semiconductor release 2.0 version of 'EMI SHIELD' equipment…"Improved performance"

2022-02-08
729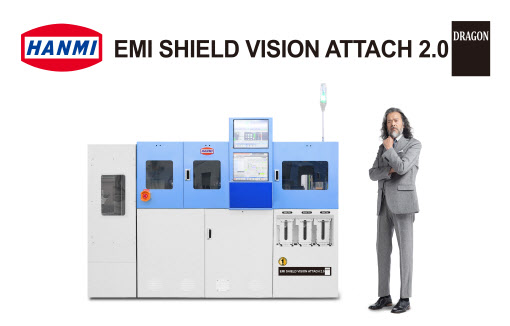 original article
HANMI Semiconductor release 2.0 version of 'EMI SHIELD equipment'…"Improved performance"
"Apply precise control and enhance package attachment functionIncrease convenience and productivity...""Expecting sales to continue to increase this year.""
HANMI Semiconductor announced on the 8th that they released 'EMI SHIELD VISION ATTACH 2.0 DRAGON', the essential equipment for semiconductor electromagnetic wave shielding process.
The EMI SHILED process is for sputtering metals such as stainless steel and copper on the surface of semiconductor chips to prevent electromagnetic waves of semiconductor chips installed in various electronic devices from malfunctioning by interfering with the operation of other chips. In 2016, global smartphone manufacturers such as Apple, Qualcomm and Broadcom introduced this process, and HANMI Semiconductor also presented EMI SHIELD equipment for the first time in 2016.
Dongshin Kwak, CEO & vice chairman of HANMI Semiconductor, said that "The new EMI SHIELD VISION ATTACH 2.0 DRAGON is equipment that performs precise process of attaching semiconductor packages to jigs for sputtering along with vision inspection. Enhanced package attachment function by applying more precise control and improving performance than previous models, and increased user convenience and productivity by adding 'vision auto focus' and 'high-speed attach mode'".
He continued, "HANMI Semiconductor's EMI SHIELD equipment has topped the world's market share in 4 years since its launch. Sales increase expected to continue this year as demand for EMI SHIELD is expected to increase in 5G mobile communication, smartphones, smartwatches, wireless earphones, VR·AR glasses, automobile devices such as autonomous vehicle, etc."
Meanwhile, HANMI Semiconductor is a semiconductor equipment company that has over 320 customers and provides EMI SHIELD line-up and TC BONDER, FC BONDER for semiconductor 3D packaging, and META GRINDER for VR and AR glass-applied substrate processing equipment. Last year sales and operating profit recorded record-high earnings of 373.1 billion won ($311.4 million) and 122.4 billion won ($102.1 million), respectively.