HANMI Semiconductor participate in 'SEMICON Taiwan' at Taiwan's Taipei

2021-12-29
806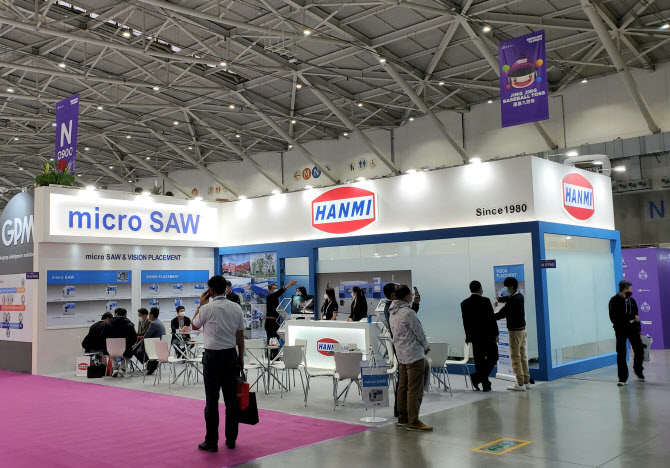 original article
HANMI Semiconductor participate in 'SEMICON Taiwan' at Taiwan's Taipei
[edaily reporter Kang Kyung-rae] HANMI Semiconductor(042700) announced on the 29th that they will participate in the 'SEMICON Taiwan' exhibition, which will be held at Nangang Exhibition Hall in Taipei, Taiwan until the 30th, and show 'micro SAW & VISION PLACEMENT' equipment.
Kim Min-hyun, president of HANMI Semiconductor, said, "Considering the importance of Taiwan, which is the center of the global semiconductor market, even in the COVID-19 situation, we've decided to participate this event to actively target major Taiwanese customers through 'HANMI Taiwan' the local subsidiary. By capitalizing on the world's No.1 sales player 'micro SAW & VISION PLACEMENT'.
He added, "We will introduce the excellence of 'micro SAW' equipment that succeeded in localization in June this year, as well as promote 'EMI Shield' which has the world's No. 1 market share, and 'TSV TC BONDER', 'FLIP BONDER' which are essential process equipment for 3D HBM memory semiconductor production, and 'STRIP GRINDER' for VR/AR glasses".
The 'SEMICON Taiwan' Exhibition, which will be held this month due to the Corona Pandemic, is a global industrial exhibition representing the field of semiconductor equipment materials. More than 650 major semiconductor companies, including TSMC, Applied Materials, Tokyo Electron, and ASE, the world's largest OSAT company, will participate. It consists of various themes such as the latest semiconductor trend, integrated innovation technology hall, and eco-friendly manufacturing technology hall. Currently, Taiwan has issued a level 2 quarantine warning until January 10th next year, showing a calming trend of COVID-19.
Founded in 1980, HANMI Semiconductor is expected to increase and develop sales next year based on 42 years of business, technical know-how, and over 320 customers, including winning the $200 million export tower at the Trade Day ceremony held earlier this month.